Don't see the Pixabay Shortcode? It's new to Page Generator Pro 2.2.9 and higher.  Ensure that your license is valid, not expired and that you've
updated
to the latest version of the Plugin.
The Pixabay shortcode inserts a dynamic, random image from Pixabay for each generated Page.
This image is stored in your Media Library, as required by Pixabay's API usage.
In most TinyMCE instances, you'll see an option to add the Pixabay shortcode in the Visual Editor toolbar (black and white camera logo)


A modal dialog will appear, with options split across two tabs:
Search Parameters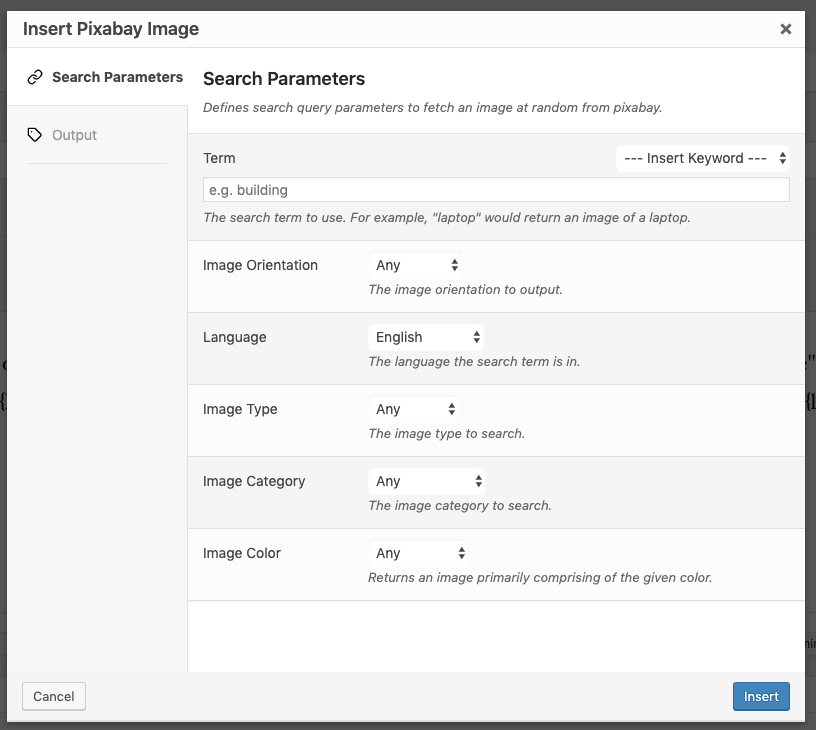 Term: Fetch an image at random from Pixabay matching the given Term.
Image Orientation: The image orientation to search for
Language: The language the search term is in
Image Type: The type of image to search for (illustration, vector or photo)
Image Category: For more precise matching, optionally choose an image category to search within
Image Color: Optionally limit results by the given primary image color
Output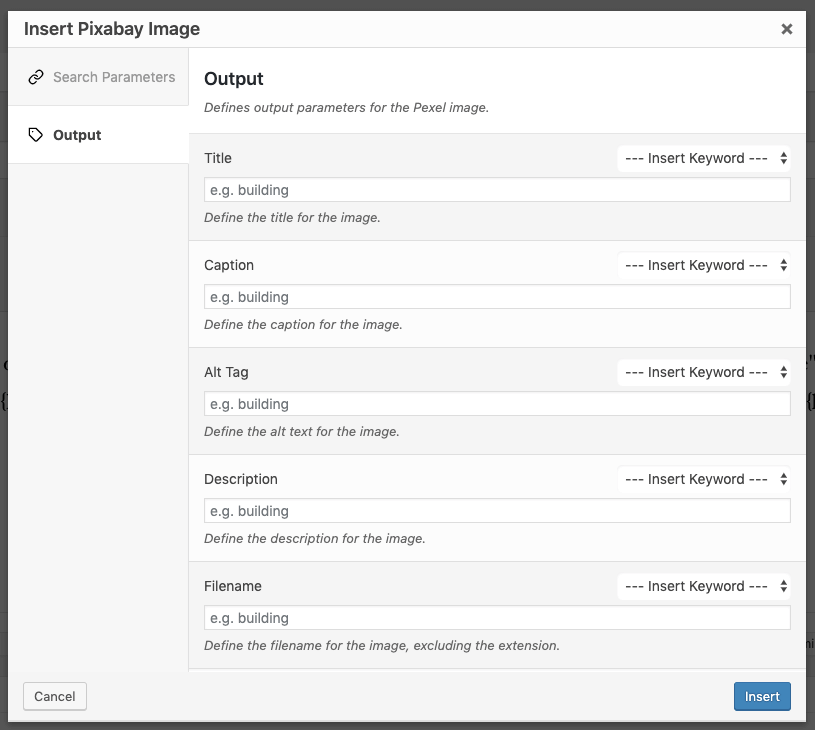 Title: The title to assign to the image.
Alt Tag: The alt tag to assign to the image.
Caption: The caption to assign to the image.
Description: The description to assign to the image.
Filename: Define the filename to save the image as in the Media Library, excluding the extension.

This can be a keyword.
It's useful to use a keyword and/or other terms to ensure that the filename is SEO friendly and related to your content.
As the image found on Pixabay will be stored in your Media Library, the above attributes are stored against the image in the Media Library.  It's therefore recommended to complete at least the Alt Tag and Filename for SEO.
EXIF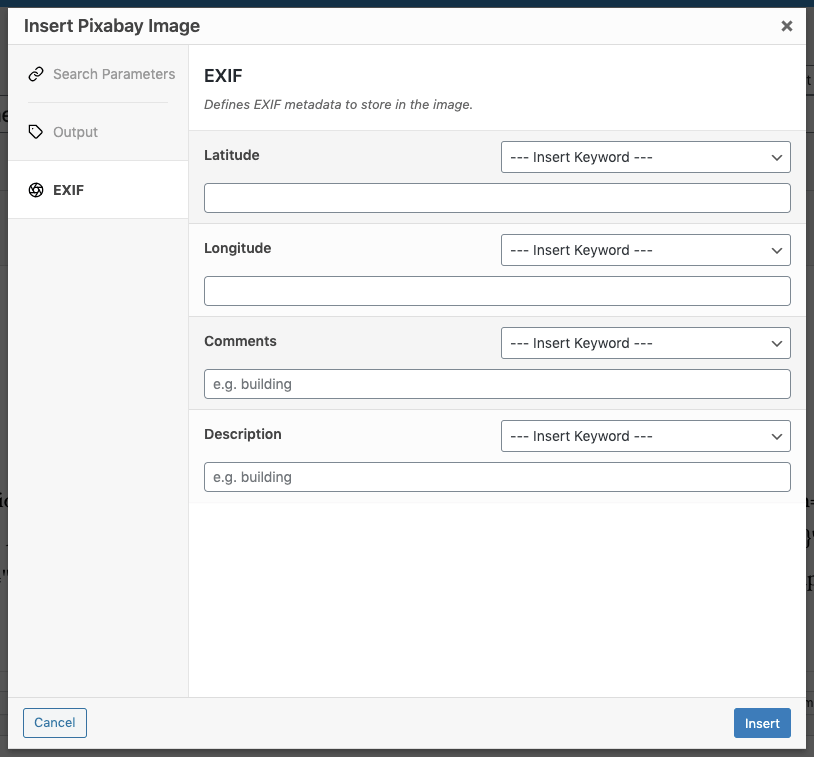 The EXIF tab provides options to optionally write EXIF metadata to the image file.  This can be useful for Image SEO.
Latitude: The image's location's latitude.
Longitude: The image's locations' longitude.
Comments: Comments about the image.
Description: A description of the image.
If any value is blank and the imported image contains an existing value in the EXIF metadata, the existing value will be retained.
Any other EXIF metadata is retained.
Click Insert to insert the shortcode.
A shortcode will then appear within the content:
[page-generator-pro-pixabay term="cars" orientation="all" language="en" image_type="all" category="transportation" color="black" title="title" caption="caption" alt_tag="alt" description="description" filename="cars"]
| Parameter | Accepted Value | Description |
| --- | --- | --- |
| term | string or keyword | Fetch an image at random from Pixabay matching the given Term. |
| orientation | all, horizontal, vertical | The image orientation to search for |
| language | cs, da, de, en, es, fr, id, it, hu, nl, no, pl, pt, ro, sk, fi, sv, tr, vi, th, bg, ru, el, ja, ko, zh | The language the search term is in |
| image_type | all, photo, illustration, vector | The type of image to search for (illustration, vector or photo) |
| category | fashion, nature, backgrounds, science, education, people, feelings, religion, health, places, animals, industry, food, computer, sports, transportation, travel, buildings, business, music | For more precise matching, optionally choose an image category to search within |
| color | grayscale, transparent, red, orange, yellow, green, turquoise, blue, lilac, pink, white, gray, black, brown | Optionally limit results by the given primary image color |
| title | string or keyword | The title to assign to the image. |
| caption | string or keyword | The caption to assign to the image. |
| alt_tag | string or keyword | The alt tag to assign to the image. |
| description | string or keyword | The description to assign to the image. |
| filename | string or keyword | Define the filename to save the image as in the Media Library, excluding the extension. |