WordPress to Hootsuite Pro will send status(es) to Hootsuite every day at midnight, where:
Post(s) meet the criteria for reposting (for example, Posts have not been updated in at least 1 month),
Post(s) have one or more status(es) defined under the Repost action.
Repost statuses are best for reviving (reposting) old Posts that you're not likely to update the content of very often, yet you still want to periodically share the Posts automatically on social media.
Want to automatically and immediately schedule status messages to Hootsuite when you Publish and/or Update a Post?  Use the Publish and/or Update Actions in the
Status Settings
options instead, or as well as the Repost Action.
---
Define Criteria for Reposting
Prior to version 1.3.2 these criteria were available at status level.
In the WordPress Administration, click on the WP to Hootsuite Pro > Settings in the menu.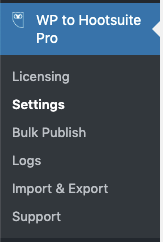 Clicking on the Repost Settings tab provides several criteria for each Post Type.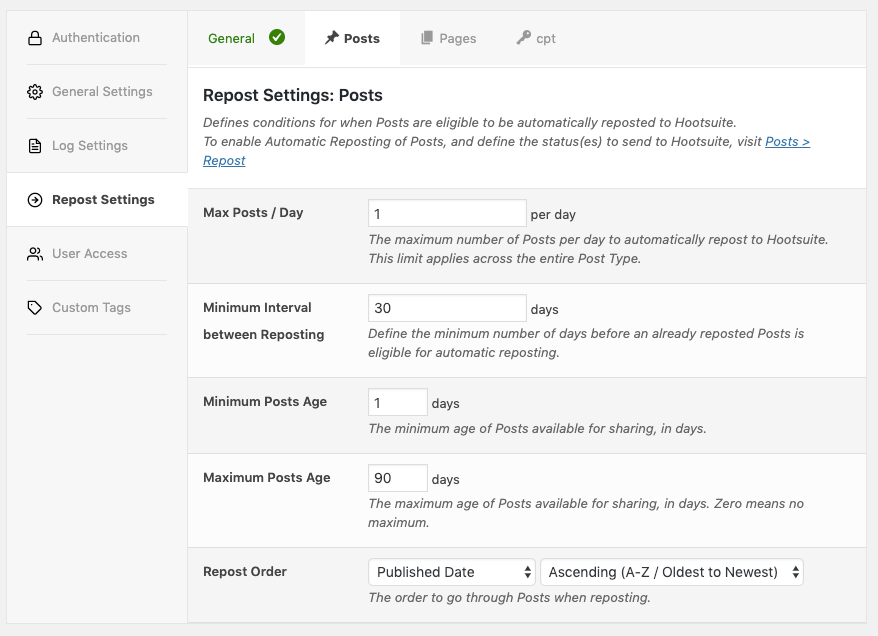 Click on each Post Type tab to define the following:
Max Posts / Day: The maximum number of Posts that will be sent to Hootsuite.
Per-Post Frequency: The minimum number of days that must pass before a previously reposted Post is eligible to be reposted again.  The higher the number, the less likely the same Post will appear on Hootsuite and social media.
Published Date: A range, in days, that the Post must be published in to be eligible for automatic reposting to Hootsuite.  For example, if you want to target Posts between 1 and 3 months, you'd set this to between 30 and 90 days.
---
Define Status(es)
Refer to the Status Settings Documentation for configuring one or more status(es) to send to Hootsuite.  You'll be defining these under the Repost action tab, as you normally would.
---
WordPress Cron Schedule
This is an optional step.  Settings here are designed for more advanced WordPress Users and Developers.
Reposting works by using WordPress' Cron system, scheduling a single event that runs every day at midnight.
This event will then send any repost status(es) to Hootsuite, depending on the settings you've defined on those status updates.
On some installations, users may prefer to change when this scheduled task runs – for example, when web site traffic is less than usual – or to disable the event to run it yourself.
In the WordPress Administration, click on the WP to Hootsuite Pro > Settings in the menu.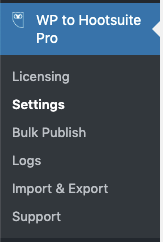 Click on the Repost Settings tab: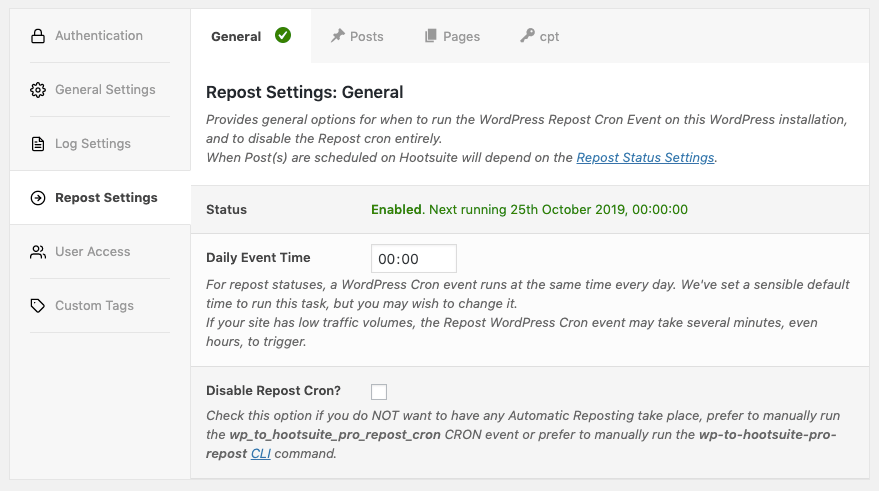 The following settings are available:
Daily Event Time: Define when you want the daily repost event to run.


This does not mean that all repost statuses will be scheduled for this specific time! Repost statuses honor the schedule settings you've defined on each individual status.

Disable Repost Cron: If you do not want to automatically run the daily repost event in WordPress, enable this option.  You will then need to either:

Call the wp_to_hootsuite_pro_repost_cron event, or
Use WP-CLI to run the wp-to-hootsuite-pro-repost CLI command.
Click Save to update your settings.