If you have a configuration file from one of our Plugins on another WordPress installation, and you want to use it on your WordPress web site, the Import option in our Plugins allows you to do this quickly and easily.
In the WordPress Administration interface, click on the Plugin's name > Import & Export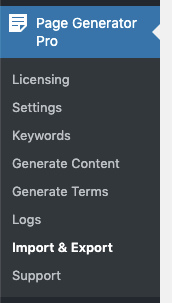 Import
The Import panel allows you to upload a JSON file generated by this Plugin to import settings.
Importing a configuration file generated by this Plugin will overwrite all settings within the Plugin.  It's best to only use this option on a clean installation, or if you're confident you want to overwrite your existing settings.
To import:
Click the Choose File or similar file upload option, selecting the JSON file on your computer.
Click the Import button.