Videos are not designed to be a substitute for instructions. Please refer to the detailed Documentation below.
Once you have defined your Group's content, you have three options: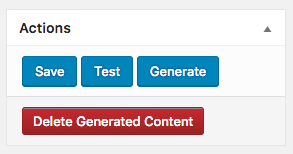 Save: This saves the settings on the Generate screen.
Test: This saves the settings on the Generate screen, and creates one test Post in draft mode.
Generate: This saves the settings on the Generate screen, and generates the required number of posts.
If you have previously generated Page(s) from this Group, you will see a fourth option:
Delete Generated Content: This allows you to delete all existing Page(s) that were generated by this Group.  This is useful if you made an error, and need to replace your existing Pages with revised content.
If you're using the Gutenberg Editor, you won't see these options when editing a Content Group.  You'll need to access the Test, Generate and Delete Generated Content actions from the
Generate Content table
.
---
Test
It's always recommended that you do this before generating all of the content.
To Test generation of content based on the Group, click the Test button. A message is displayed on screen confirming you want to generate a Test Page:


Once confirmed, an on screen notification will confirm whether the Test succeeded, with a link to the draft Page / Post / Custom Post Type:


Preview the generated Test content to confirm correct working functionality, and make changes to your Group as necessary.
---
Generate
To generate content based on the Group, click the Generate button.  A message is displayed on screen confirming you want to generate Pages:


Once confirmed, a screen will display showing the progress as each Page is generated, along with the time it took and the server memory usage: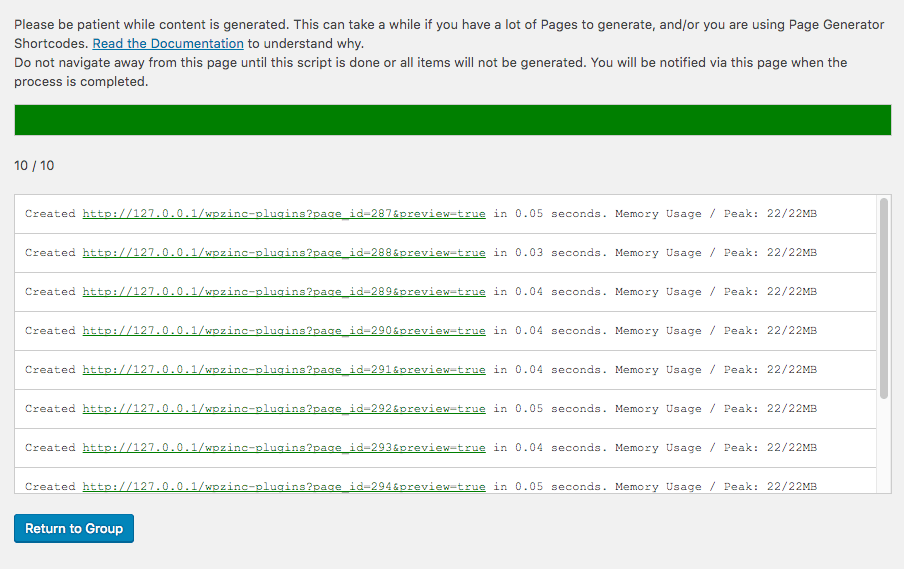 To cancel Page Generation at any time, click the Stop Generation button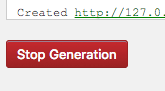 ---
Performance
When using any of the above dynamic shortcodes, the Generation process may take a few seconds or longer for each Page.  Page Generator Pro converts the shortcode into actual HTML output, querying the third party services (Google, Wikipedia, Yelp, YouTube etc) to insert the actual contents into each Page.
This ensures that the resulting Page does not dynamically query these third party services every time your site visitor views the generated Page. Doing so would result in the page taking a long time to load for every single visitor (and, in turn, affect your rankings on SERPs).
By taking a one time performance hit on slower page generation, the performance of your generated Pages for SERPs and all site visitors is dramatically increased.
Due to this, you may wish to generate content in smaller batches – for example, 500 Pages at a time.  This can be achieved using the Number of Posts and Resume Index options, which are documented.
As a guide, a basic Group with two keywords (service and city), with each Page Generator Pro shortcode in the content produces the following generation times:
| Shortcode | Example Generation Time (seconds) |
| --- | --- |
| Google Maps | 0.05 |
| Wikipedia | 1.82 |
| Yelp | 0.56 |
| YouTube | 0.6 |
Therefore, if all 5 shortcodes were to be used, a generation time of 5.7 seconds would be reasonable.
However, this is purely a guide, and not to be used as a benchmark or comparison.  Your performance will vary, due to a variety of factors including server performance, connection speed and the number of shortcodes used.  Whilst we are happy to investigate edge cases (e.g. generation times of 30 seconds per page plus), please don't use the figures quoted here as a comparison or expectation.
We are also unable to advise on precisely how long pages will take to generate, and how many should be generated at a time.