Overview
Export Generated Content is available in Page Generator Pro 2.9.7, releasing Thursday December 17th 23:59 UTC.
When viewing the Content Groups table, options to export Generated Content are displayed if a compatible third party Export Plugin is installed and activated on the WordPress site.
WP All Export (Free and Pro)
Support for WP All Export Pro is available in Page Generator Pro 3.6.6, releasing Thursday April 28th 23:59 UTC.
Install and activate WP All Export or WP All Export Pro on the site containing generated content
In the WordPress Administration menu, navigate to Page Generator Pro > Generate Content

Click on the Export Generated Content via WP All Export link for the applicable Content Group

A screen will display, which will be automatically populated and submitted within a few seconds.
The final screen to display will show the number of records that will be exported:

Click the Add All button

Click Continue

On the next screen that appears, click Confirm & Run Export

Once the export has completed, download either the CSV or Bundle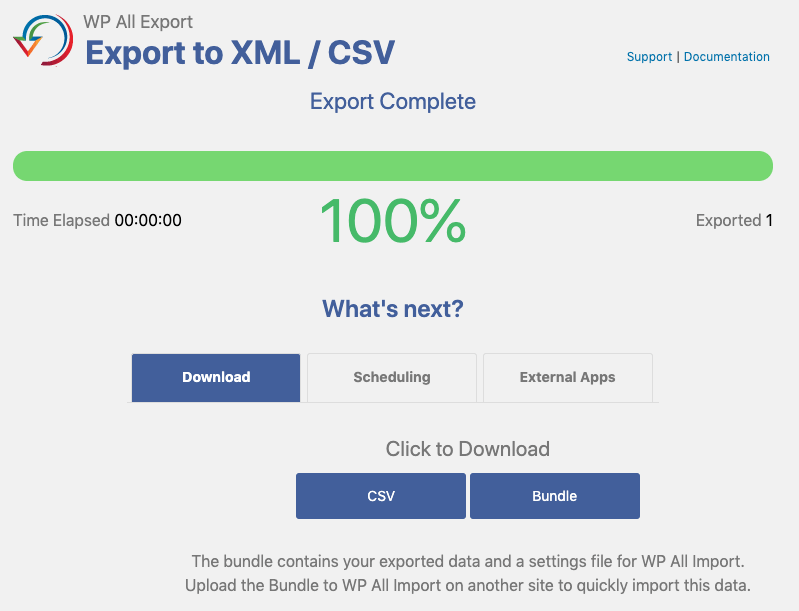 Refer to
WP All Import
for instructions on how to then import content from your WP All Export CSV or Bundle file.