Overview
Page Generator Pro provides functionality to automatically populate a Content Group with AI researched content based on a given topic, known as Research
This is useful if, for example, you need to write about a subject / topic but you're unsure where to begin, or what content to write.
The researched content is inserted into the Classic Editor, Gutenberg or your Page Builder's block/module, and can then be edited in the same way as any other content.
Setup
To enable Research functionality, you'll need to:
Sign up to a supported third party AI content research service, and
Enable the third party service in Page Generator Pro's settings
Refer to the Settings: Research documentation for steps to complete the above.
Create or Edit a Content Group
Once setup, you'll need to create a new Content Group, or edit an existing one.
Refer to the Generate: Content functionality for steps to complete this.
Research: Classic Editor
When editing a Content Group in the Classic Editor:
In the Visual Editor's toolbar, click the Research button:

Enter the topic that the content should be based on.

For example, if the Content Group relates to plumbing services, you might use "plumbing" or "bathroom plumber"


As research inserts text into the Content Group, the topic cannot be a Keyword.
An on screen modal will display, showing the approximate amount of time the research service will take to produce the content

It's important not to navigate away from this screen, and to wait for the given time. Page Generator Pro will check every 10 seconds until the research service completes the content, which may be slightly longer than the estimated time
Once complete, the content will be inserted into the Visual Editor: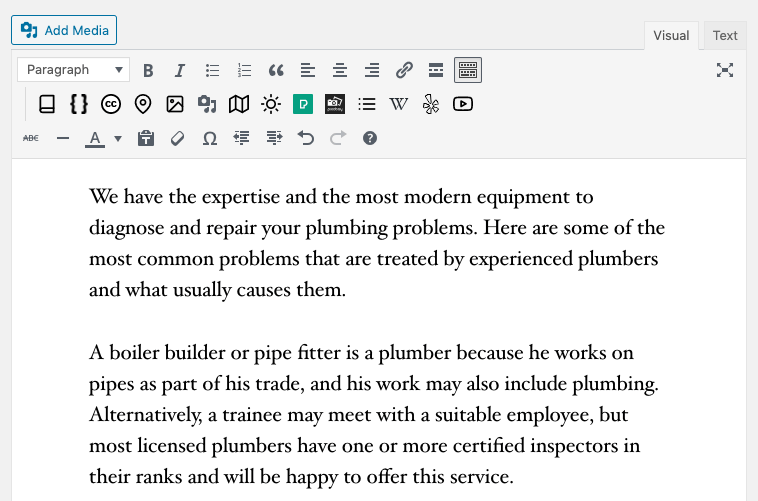 Research: Gutenberg
[]
Research: Page Builders
Research can be performed within any Page Builder that supports a Text Editor widget/module using the Classic Editor (sometimes known as TinyMCE).
To do this, follow the Research: Classic Editor section above.
The following Page Builders have been tested and are known to provide a Text Editor widget/module that supports Page Generator Pro's research functionality:
| Page Builder | Supported Module / Widget Name |
| --- | --- |
| Avada / Fusion Builder | Text Block |
| Beaver Builder | Text Editor |
| BeTheme / Muffin Page Builder | Visual Editor |
| Bold Builder | Text Element |
| Divi | Text Module |
| Elementor | Text Editor |
| Enfold / Avia Layout Builder | Text Block |
| Flatsome UX Builder | Text Element |
| Live Composer | Text Element |
| Oxygen Builder | Rich Text Module |
| Porto2 | Uses Classic Editor or Gutenberg |
| SiteOrigins Page Builder | Editor Module |
| Thrive Architect | WordPress Content Element |
| Visual Composer | Text Block |
| WPBakery Page Builder | Text Block |
| X Theme / Cornerstone Page Builder | Each Dynamic Element is registered as an Element in Cornerstone |
This is not a definitive list. Other Page Builders may provide a Rich / Visual / Text Editor Module that supports Page Generator Pro's Research functionality.
Next Steps
With the researched content added to your Content Group, it's recommended that you edit the content by:
Add your Keywords within the text
Changing parts of the text to more closely match the context of the content you want to produce,
Adding Dynamic Elements within the text
Converting parts or all of the text to Spintax format, either: